Hotel complex Ayhan
Address: Aktobe, Sankibay Batyr ave. 12
How to get here
opposite to Broadcasting Company of Ala Tau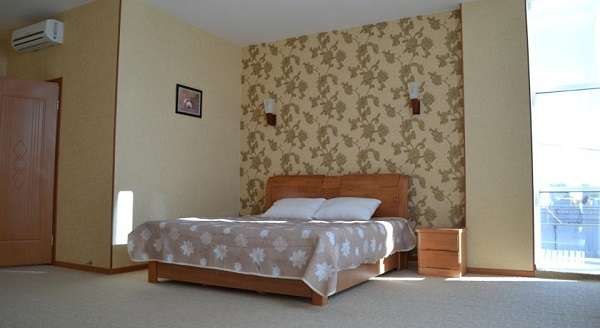 Hotel complex Ayhan
Prices and cost of services and accommodation
Price 2023

Accommodation in the Economy room 1 local accommodation: 24 hours – 12,000 KZT, half a day - 8000 KZT
Accommodation in the Standard room 1 local accommodation: 24 hours - 15 000 KZT,
Accommodation in a Deluxe room 1 local accommodation: 24 hours - 15 000 KZT
Book a room in this hotel
prices can change at any moment
Additional services
We can provide the Turkish bath and a Russian-sauna in which there is a pool with system of cleaning and heating of water.
Also for fans of the Finnish sauna we have a sweating room with dry steam. Also to services reservation of tickets and different types of transport, a laundry, existence of copy and facsimile equipment, parking, a taxi call. Your safety will be watched by the round-the-clock protection. At your service free Wi-Fi.

Conveniences in the rooms
23 cozy hotel rooms. In hotel three categories of hotel rooms: "Economy class", "Standard", "Delyuks". Each room is equipped with comfortable, modern furniture, the TV with 80 cable channels, phone, a minibar (refrigerator), a shower cabin, etc.

Meeting at the airport, the railroad station, bus station
available
Checkout time
from 12:00
Payment method
cash, transfer, clearing settlement
Location