Aidana Plaza hotel
Address: Kazakhstan, Kostanay, Tolstoy St., 53
How to get here
Downtown of Kostanay city. The Aidana Plaza hotel in Kostanay heat welcomes each guest and creates all conditions for comfortable accommodation in hotel. The friendly personnel are glad to help and offer additional services.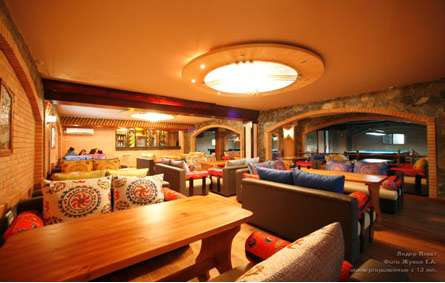 Aidana Plaza hotel
Prices and cost of services and accommodation
Prices 2018
Junior Suite – 16000 KZT, 12 hours 10000 KZT
Deluxe 19000 KZT, 12 hours 12000 KZT
prices can change at any moment
Additional services
Daily cleaning of the room;
The restaurant of Aidana Plaza hotel complex offers you high level of service, a wide choice of refined dishes of east and European cuisine, a magnificent interior and only pleasant flavoring impressions.
Round-the-clock laundry
Pool of "Aidana Plaza" - for those who really love and are able to play a pool. There are 6 tables. Conveniently planned and elegantly decorated VIP and semi-VIP halls. The pleasant and benevolent atmosphere disposes to fine rest in billiard "Aidana Plaza".
The isolated parking for cars

Billiards
Conveniences in the rooms
For convenience of our guests in each room all necessary accessories, satellite multichannel TV, high-speed and free Internet access (Wi-Fi), a minibar, the hair dryer, the conditioner.

Checkout time
upon entrance
Payment method
Cash, the cashless payment Is possible (credit cards or transfer before departure from hotel).
Location