Hotel Medeo in the city center
Address: Kazakhstan, Kostanay, Baymagambetov St., 166a

How to get here
Description
The hotel complex "Medeu" is ideally located in the heart of the city of Kostanay.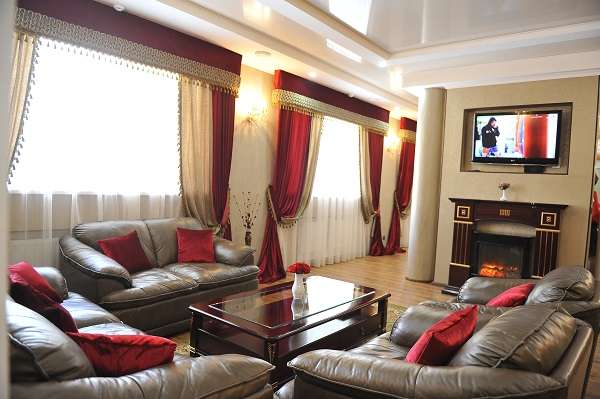 Hotel Medeo in the city center
Prices and cost of services and accommodation
Price list 2022
Apartment (three rooms: one bedroom, office, living room) - 90,000 tenge/day
Suite (living room and bedroom) - 33 000 tenge / day
Junior suite (one room with a large bed) - 26,000 tenge/day
Junior suite double (one room with two beds) - 30 000 tenge/day
Family (3, 4-bed, two bedrooms and a living room) - 40,000 tenge / day
Standard (single room) - 21 000 tenge/day
prices can change at any moment
Additional services
Conference hall
Sauna and swimming pool

Banquet room
Lounge-restaurant
VIP-hall
Medeu restaurant
Summer verandah
Conveniences in the rooms
There are non-smoking rooms.
For convenience of our guests in each room all necessary accessories, satellite multichannel TV, high-speed and free Internet access (Wi-Fi), a minibar, the hair dryer, the conditioner, a separate balcony, bathroom.

Meeting at the airport, the railroad station, bus station
available
Checkout time
12:00
Payment method
Cash, bank transfer, credit cards
Location