HOTEL COMPLEX SCYTH
Address: Kazakhstan, Petropavlovsk, Parkovaya St., 118
Whatsapp or Fax +7 777 536 33 66
How to get here
The Skify hotel complex is located in the downtown.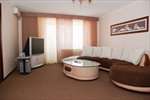 HOTEL COMPLEX SCYTH
Prices and cost of services and accommodation
Price 2023
Comfort - 33000 KZT
Business – 28000 KZT
Lux – 45000 KZT
Grand Deluxe - 60,000 KZT
Book a room in this hotel
prices can change at any moment
Additional services
Restaurant, 24 hours
Bar
Conference room
Free WI-FI in all territory of hotel
Fitness & Spa (2 pools, 2 jacuzzis, font, medical saunas, gym, water aerobics, shaping, massage, services of the cosmetologist, sunbed)
Laundry
Medical dos Sharco.
Special "WEDDING PACKAGE" for newlyweds
Transfer
Rent of a laptop
Business center (photocopy, listing of documents, fax)
Parking
Conveniences in rooms

Conveniences in the rooms
You can always find necessary bathing accessories in room.
rooms are equipped with safes, minibars, the international phone line, cable TV, WiFi.
Meeting at the airport, the railroad station, bus station
available
Checkout time
Departure till 12-00, extension of stay for 0,5 days or on hours is possible. Arrival after 14-00.
Payment method
Cash, Cashless payment, Visa, Mastercard, etc.
Location