HOTEL COMPLEX SCYTH
Address: Kazakhstan, Petropavlovsk, Parkovaya St., 118
How to get here
The Skify hotel complex is located in the downtown.
Photo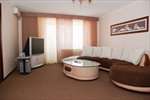 HOTEL COMPLEX SCYTH
Prices and cost of services and accommodation
Prices 2018
Improved standard - 18 000 KZT
Suite, single, two - 22 000 KZT
Deluxe single, two/three - - 32 000 KZT
Grand Deluxe - 46 000 KZT
Book a room in this hotel
Additional services
Restaurant, 24 hours
Bar
Conference room
Free WI-FI in all territory of hotel
Fitness & Spa (2 pools, 2 jacuzzis, font, medical saunas, gym, water aerobics, shaping, massage, services of the cosmetologist, sunbed)
Laundry
Medical dos Sharco.
Special "WEDDING PACKAGE" for newlyweds
Transfer
Rent of a laptop
Business center (photocopy, listing of documents, fax)
Parking
Conveniences in rooms

Conveniences in the rooms
You can always find necessary bathing accessories in room.
rooms are equipped with safes, minibars, the international phone line, cable TV, WiFi.
Meeting at the airport, the railroad station, bus station
available
Checkout time
Departure till 12-00, extension of stay for 0,5 days or on hours is possible. Arrival after 14-00.
Payment method
Cash, Cashless payment, Visa, Mastercard, etc.
Responses
Victoria
Lived with family for several days with the children! In addition to a warm welcome and high level of service, pleased with the prices in the restaurant and the fact that the price includes the pool and fitness center. Enjoy these benefits, while our dad went to work. Nice and cozy hotel, the view of themselves left the most good, would like to come back again!) Polite staff
04.03.2017 10:39
Leave feedback
Dear visitors of the website realkz.com, please the comment, share information with others...
Location