Rooming house Shanyrak
Address: Kazakhstan, Petropavlovsk, Shukhov St., 30
How to get here
Not far from 4th policlinic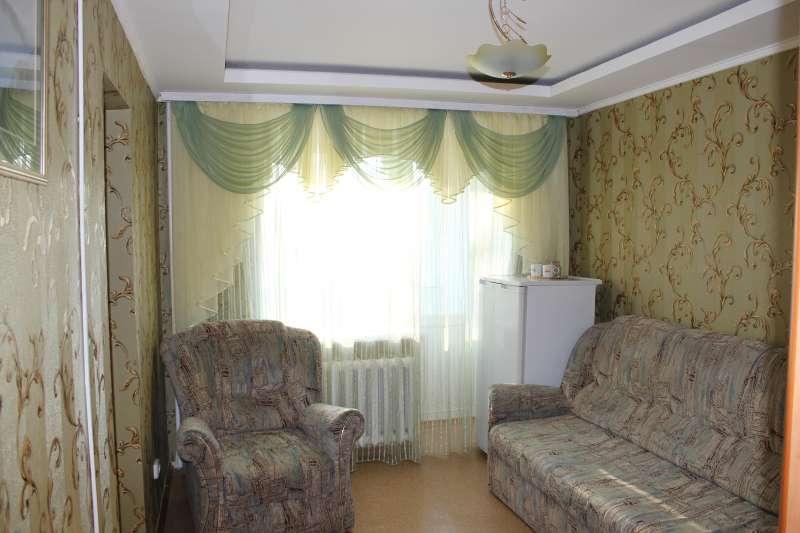 номер Люкс
Prices and cost of services and accommodation
Price 2023
The cost of a bed in a 3- or 4-bed room is 2000 KZT
Standard triple room – 4500 KZT
Standard quadruple room - 6000 KZT
Double room - 4000 KZT
Junior Suite – 6000 KZT
Luxury - 7500 KZT
Payment for half a day is possible.
prices can change at any moment
Additional services
14 rooms.
We have a wide experience in placement of sports and other delegations, groups, and collectives.
We try to make so that our guests, having chosen once our rooming house as a residence, never changed the choice. At your service: Cozy rooms, the Cable television, Reasonable prices, the Convenient entrance on motor transport, Nearby parking.

The organization of inexpensive complex breakfasts, lunches and dinners in adjacent cafes.

Conveniences in the rooms
In each room TV (cable television). In a suite and a junior suite there is a toilet and a modern shower booth. When settling in usual rooms of souls and a toilet on the floor (one on two-three rooms).

Checkout time
upon settling.
Payment method
cash, VISA, Eurocard/MasterCard, Altyn
Nearby are
Location