Rooming house Shanyrak
Address: Kazakhstan, Petropavlovsk, Shukhov St., 30
How to get here
Not far from 4th policlinic

Photo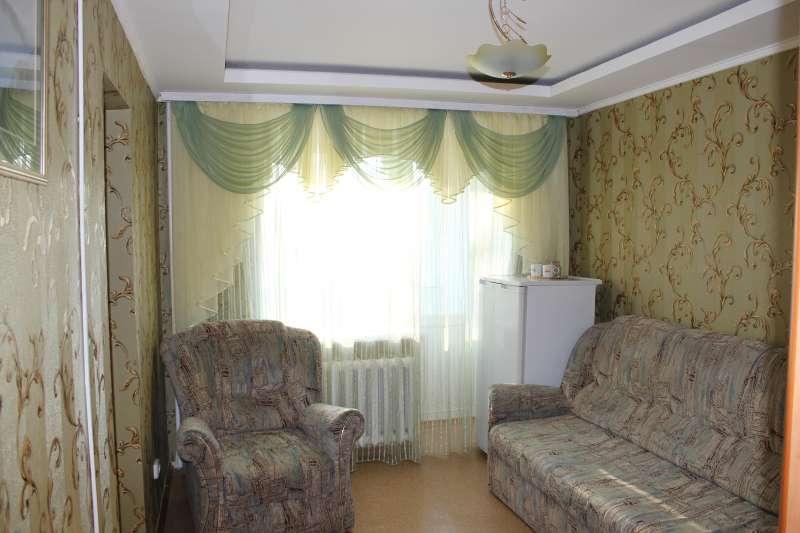 номер Люкс
Prices and cost of services and accommodation
Prices 2018 for a full day
Standard 3600, 4800 KZT
Deluxe 5000, 6000 KZT payment for half a day
The cost of a bed in a 3-or 4-bed room - 1500 KZT
Additional services
14 rooms.
We have a wide experience in placement of sports and other delegations, groups, and collectives.
We try to make so that our guests, having chosen once our rooming house as a residence, never changed the choice. At your service: Cozy rooms, the Cable television, Reasonable prices, the Convenient entrance on motor transport, Nearby parking.

The organization of inexpensive complex breakfasts, lunches and dinners in adjacent cafes.

Conveniences in the rooms
In each room TV (cable television). In a suite and a junior suite there is a toilet and a modern shower booth. When settling in usual rooms of souls and a toilet on the floor (one on two-three rooms).

Checkout time
upon settling.
Payment method
cash, VISA, Eurocard/MasterCard, Altyn
Nearby are
Responses
Lily
Prices are low, staff are smiling, the girl gladly crunched chips and got acquainted with the administrators! The rooms are lovely, pure, soul, all in excellent condition. Prosperity to you! Thanks again!
15.03.2017 10:18
Leave feedback
Dear visitors of the website realkz.com, please the comment, share information with others...
Location