| | |
| --- | --- |
| | |
How to get to Almaty airport - 3 best options
Almaty International Airport is located only 13 km from the city center, so it will not be difficult to get there. You can find out about the 3 bestl options on this page!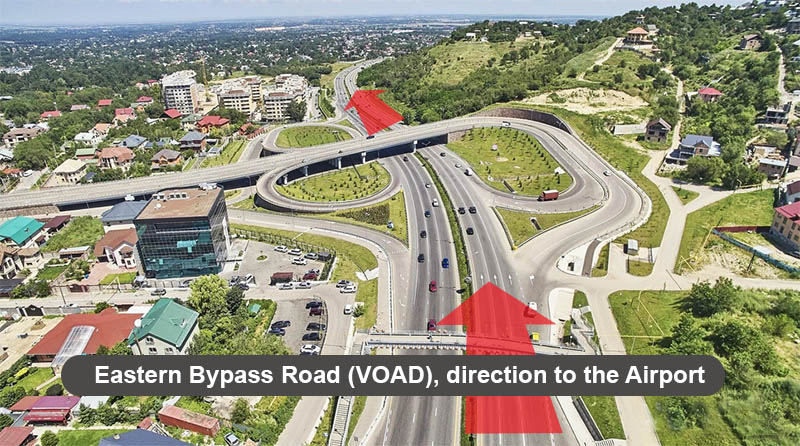 Taxi
A taxi is the fastest and most convenient option. Most of the services are open 24 hours a day, but it is better to book night trips 5 to 7 hours in advance. This is due to the fact that in bad weather you can simply not reach the operator. The cost of the trip is about 10 $. A more chic car will cost you more.
Here are examples of the most popular services:
Econom Taxi Almaty is one of the least expensive options

Leader - has 3 payment options

Maxim - distinguished by good service and reasonable prices

See the full list of taxi services here.
Important! It more reliable to call a taxi service with a live dispatcher, rather than using mobile applications.
Own car
If you have relatives or acquaintances in the city, ask them to play the role of your personal driver. A trip to the airport on your own transport will take about half an hour. The car can be left in a small paid parking:
Up to 15 minutes - for free
From 15 minutes to 2 hours - $ 0.83
Up to 4 hours - $ 1.39
Up to 6 hours - $ 2.22
Up to 12 hours - $ 3,34
Up to 24 hours - $ 5
For every following day - 5,56 $

Important! The fastest way is to use the East bypass road (VOAD), Ryskulov avenue, Kuldzhinsky tract or Suyunbay avenue.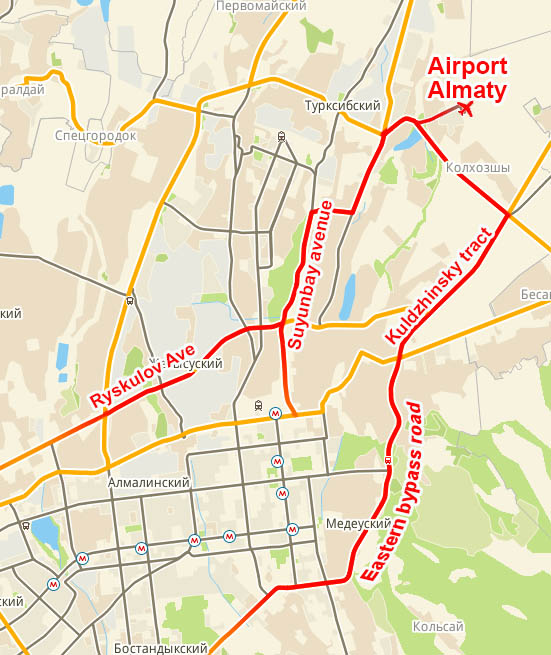 Public transport
For anyone who is in not too much in a hurry and doesn't have a lot of luggage, public transport can be an option. There are several regular bus routes from different parts of the city:
№ 79 - runs from the intersection of Zhandosov and Sain (close to the micro-districts) to the Airport

№ 86 - runs from the Academy of Aviation, past the airport to the Orbita 3 microdistrict (intersection of Navoi and Al Farabi)

№ 92 - runs from the Mamyr micro-district (Shalyapin-Momyshuly intersection) to airport terminal area

№ 36 - runs from Almaty 1 Railway Station and stops 500 metres from the airpo

№ 41 - Almaty 1 Railway Station - Almaty Airport (500 m), with the final stop in the Koshi settlement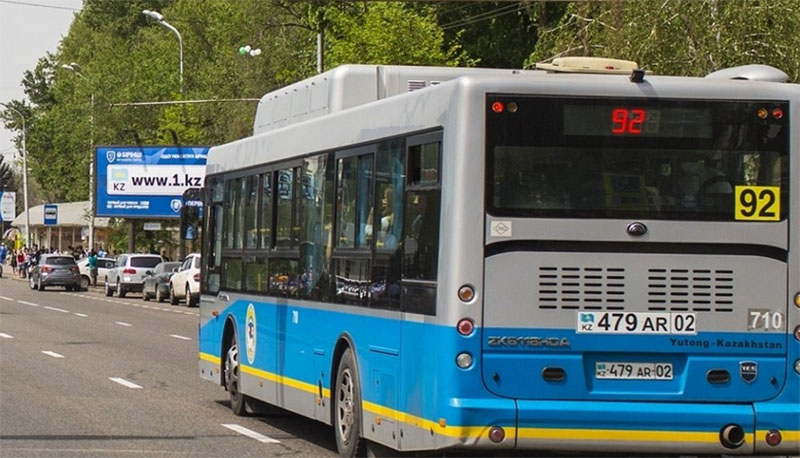 Important! To understand the routes, download the bus application, where you can find convenient stops or places of transplant.
The journey takes from 30 to 55 minutes. The fare is around 0,22 $. It should also be no that public transport in the city works properly only until 8 pm - any later it is totally unpredictable. The only exception is a night bus route number 92. But getting on it is noteasy - you need to know the exact schedule and have a large time reserve.