| | |
| --- | --- |
| | |
Hiking trails and scenic views in the mountains of Almaty
The mountains of the Zailiyski Alatau in Almaty attract both fans of extreme activities and unprepared travelers looking for new experiences. Their uniqueness lies in the accessible location, because the mountain ranges are located practically in the city, and many tourist routes start literally from the bus stops. Only 15-20 minutes on a regular bus separate you and a start of an exciting journey.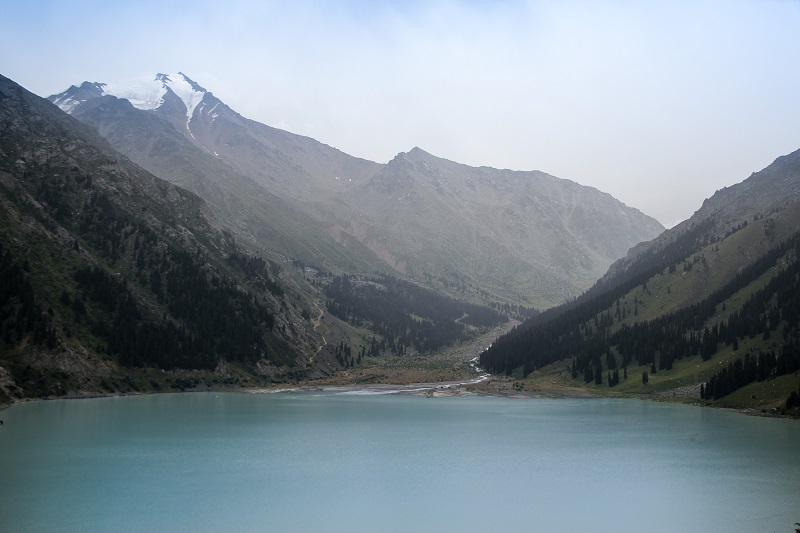 Big Almaty Lake (BAO)

Zailiysky Alatau (so the mountains of Almaty are called) is a place where everyone can have an interesting time. Depending on the season, the tourist's readiness and his preferences, here you can organize different types of recreation and visit beautiful places at any distance from the city.


The highest mountain of the Zailiyski range – Talgar – 5017 m
Hiking
One of the most accessible forms of recreation is walking. Now it has become fashionable to call them foreign words like hiking, which means a short and easy journey, and tracking is a long hike in the mountains. There are a lot of places for walking of different levels of difficulty in the mountains of Almaty.
It is important to remember that if you walk for a long time in a southern direction, you can accidentally break the border with Kyrgyzstan. The territory of the Almaty Reserve begins in the west side, where entry is allowed only with special passes.

Places for short walks (hiking):

Dam in the tract Medeo (12 bus or car)

Kimasarovskoe gorge (12 bus or car)

Butakovka gorge (12 and 29 buses, but more comfortable car)

Walk above the Chimbulak ski complex (bus 12 + cable car or taxi)

Bear Gorge (bus 28 and then on foot)

Alma Arasan gorge (bus 28 and then on foot)

Kok Zhailau (12 bus, stop Prosveshenets and then on foot - long trek, there is no clear path and you might get lost without a guide)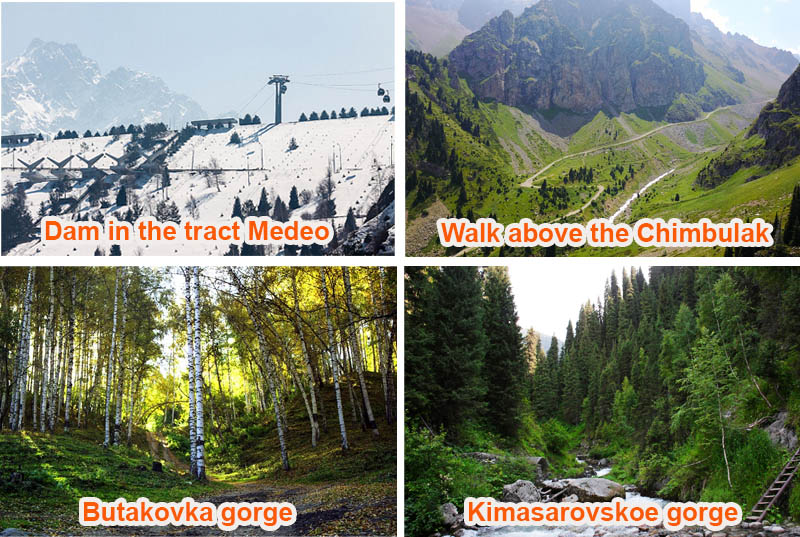 The benefits of walking in the mountains are great and you should not neglect the opportunity to spend a few hours in nature. Although most routes are designed for trained travellers, there are more simple options. The trip to the Kimasar Pass will take no more than three hours, and the length of the route will be approximately 6 km. With a GPS navigator, almost everyone can make such a walk.

Hotels in the mountains
Another option to spend time in the mountains is to go to one of the hotels located there, or rent a house. There are not too many offers, but they are some and you can find an option in different price categories.

Renting a cottage in the mountains is usually preferred by fans of comfort, who are not ready to sleep in tents. In most cases it is possible to use additional services:
Order a walking or horseback riding excursion, riding a quad bike;
Visit the restaurant located at the hotel;
Take advantage of the complex proposed health treatments.

The list of services depends on the category of hotel.
For a list of all mountain hotels, cottages look here

Skiing

Near Almaty there are several ski resorts offering skiing for every taste. There are both routes for beginners and truly extreme, the so-called black routes.
Places in the mountains, designed for skiing, are becoming more comfortable. Modern lifts work here, there is equipment rent and you can use the services of an instructor.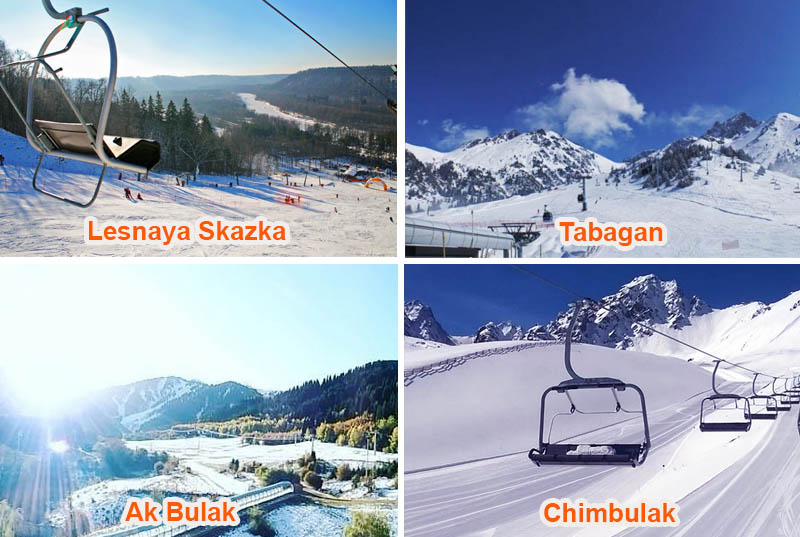 Mountaineering
Fans of extreme sports will also find a number of interesting routes. Here you can make both one-day and longer ascents. Experienced climbers can conquer the highest mountain of Almaty, Talgar, whose height is 5017 meters, and for beginners and those who are not yet completely confident in their abilities, there are a number of equally interesting routes. For safety and better orientation in the field you should use the services of a guide.

At the end of winter and early spring, an avalanche season begins in the mountains of Almaty, when the number of accidents in the mountains increases.
Guide service in Almaty. Please visit these web sites (english).
http://adrenalinicsilence.kz/en/hiking/10-hiking-trails-of-almaty-mountains/

http://gorny-club.kz/ekskursii-i-tury/
Family picnics by car
Not everyone loves hiking routes to the mountains of Almaty, and for various reasons, someone cannot afford to spend holidays in such a format. It is much more convenient for many to come to the mountains by car. This can be done with the family and even young children, for whom the mountain air is especially useful.
Big Almaty gorge
Lake Issyk (go about 1 hour)
Butakovsky gorge
Finding a picturesque place near the road is not difficult. There are both specially equipped gazebos and simply convenient meadows where you can put a brazier, lay a blanket or place furniture brought with you. One of the problems that can be encountered during such a picnic is garbage left by other people. These are the sad realities of the modern world, in which people for some reason have ceased to value and respect nature.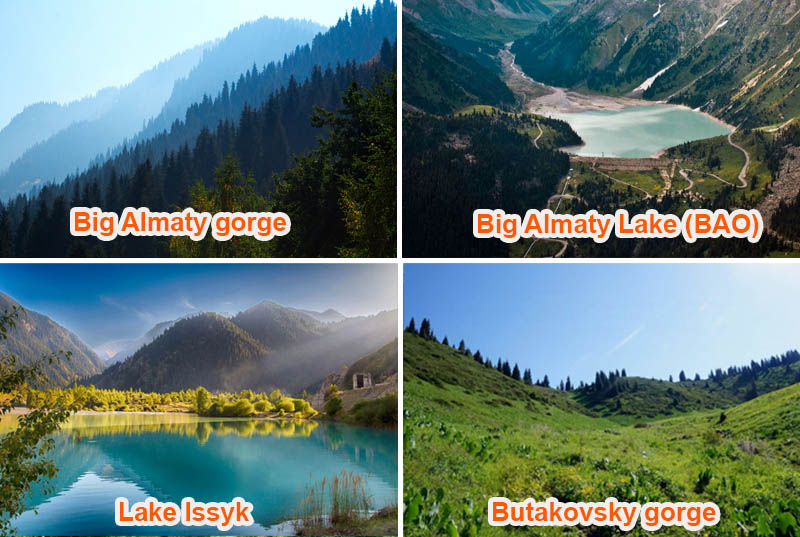 Fascinating weekend in the mountains - weekend tours
Practically at any time of the year, Almaty travel agencies offer weekend tours. This is the easiest and most convenient way to visit the mountains. On a comfortable bus with a guide, guests will be taken to the beginning of one of the hiking routes of various lengths. As part of an organized group, you can visit the mountain lakes, waterfalls, as well as climb the points from which you can enjoy beautiful panoramic views.

Turgen waterfalls
Issyk Lake
Kolsai Lakes (two-day tour)
Aksai gorge

Most of the programs are designed for one day, however, two-day tours are also offered, suggesting spending the night in the mountains. You can also take a ride on bicycles or quad bikes, visit themed events.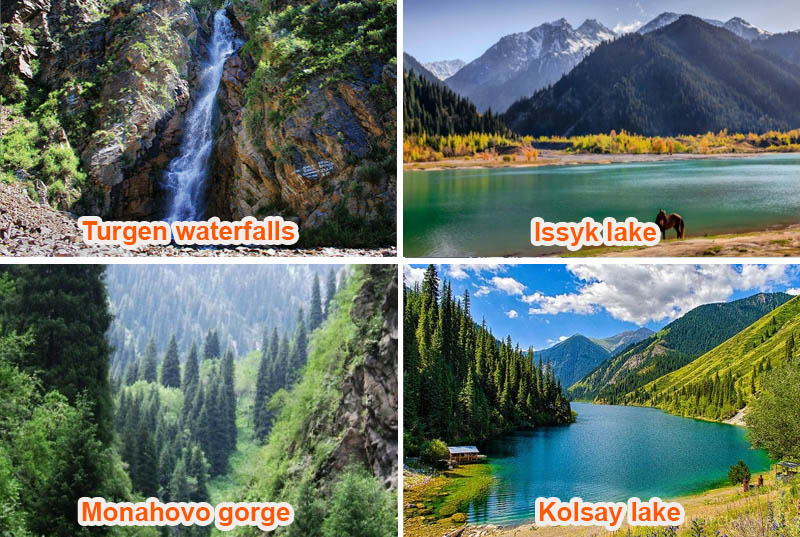 How to get there
The easiest and most inexpensive way to get to the mountains of the Zailiyski Alatau is to use an ordinary scheduled bus. There are just two routes by which this can be done:

No. 12 - departs from the Kazakhstan Hotel and follows to the Small Almaty Gorge, making the final stop opposite the Medeo skating rink;
No. 28 - departs from the Park of the First President to the Big Almaty Gorge, from where you can reach the Almaty Lake, the Prohodnoe gorge and other beautiful places.

With your own car, the task is simplified.
However, it is worth remembering that in some places passage may require payment and you will need to pay a so-called environmental fee.
There is also a parking problem because sometimes it can be difficult to find a comfortable and safe place to leave a car.
Wealthy travelers can take a taxi or hire a car with an experienced guide who will conduct an individual tour, show the most beautiful places and share their own experiences.
How to prepare for visiting the mountains
A few tips to help make holidays in the mountains more comfortable and safe:

Going to the mountains, you should carefully read the weather forecast, because in the Zailiyski Alatau it is completely different than in the city;
Essential attributes of a traveller's clothing should be comfortable shoes, a warm jacket and a raincoat, and in summer a hat and sunscreen;
Even when travelling in an organized group, it's worth taking water and food with you;
The first half of the summer months in the mountains are a period of increased activity of ticks, so it is worth taking the necessary measures to protect against these dangerous insects;
The main danger for travellers in winter are avalanches and in the summer floods and mudflows.
And one more tip for experienced travelers. Do not go to the mountains alone. And if nevertheless, you decide to make a single trip, it is necessary to inform someone trusted about your route, its duration and control points along the way.
Some places in the mountains on the map