Park House hotel (Short-term rent of apartments)
Address: Kazakhstan, Petropavlovsk, Internatsionalnaya St., the 59, second office - Mira St., 130
How to get here
PARK HAUS not just apartments by the day. It is the cozy and house atmosphere, a wide choice of apartments of various class,
including with exclusive design projects, maximum range of additional services, full equipment of apartments of any class all necessary trifles and equipment.
PARK HAUS – the modern and business trademark urged to introduce new standards in the market of hospitality not only in our city but also across all Kazakhstan.

Photo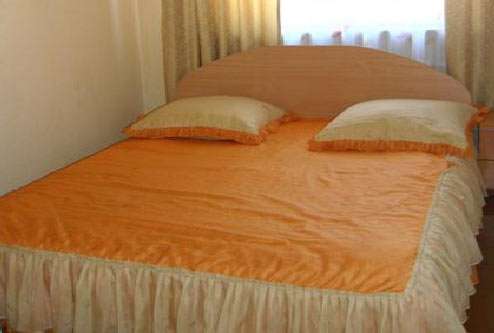 Park House hotel (Short-term rent of apartments)
Prices and cost of services and accommodation
Prices for 2018
From 5500 to 18750 KZT
You can pay in 12 hours
Additional services
For maintenance of purity and an order in apartments own services of maids, masters, laundries are created.

Conveniences in the rooms
Cost included directly accommodation in the apartment, cleaning and change of bed linen (1 times in 2 days). Besides, the cost of rent included all overhead costs: light, gas, heating, hot and cold water, phone
All apartments are equipped by all the most necessary for comfortable stay.
Meeting at the airport, the railroad station, bus station
available
Checkout time
from 19:00 till 10:00
Payment method
Cash, Bank transfer, credit cards
Nearby are
Responses
Jenna
Thank you for the excellent service! Went for a week and have made at a personal discount. Despite the cold outside the apartment was warm and cosy, was pleasantly surprised by the lunch order with delivery on house. Required reporting the docks I was given immediately after the Congress, thank you
25.03.2017 18:41
Leave feedback
Dear visitors of the website realkz.com, please the comment, share information with others...
Location