| | |
| --- | --- |
| | Almaty Mountains Resort hotels :: Lesnaya Skazka (Oi-Qaragai) mountain resort hotel |
Lesnaya Skazka (Oi-Qaragai) mountain resort hotel
Address: Kazakhstan, gorge Oy-Karagay, Talgarsky district, Almaty region
How to get here
The mountain resort hotel "Forest fairy tale" is located in the quiet district of Ile-Alatausky national park, in 7 km from the village of Beskaynar. The trip to Almaty takes 35 minutes.

There is a special comfortable Express, that will take you to our resort. The bus runs only on Friday, Saturday, Sunday from the Palace of Sport, Almaty city. One way ticket costs 300 KZT (0.77 USD)
Как забронировать
You can book a room on online, or to call the number given on the website.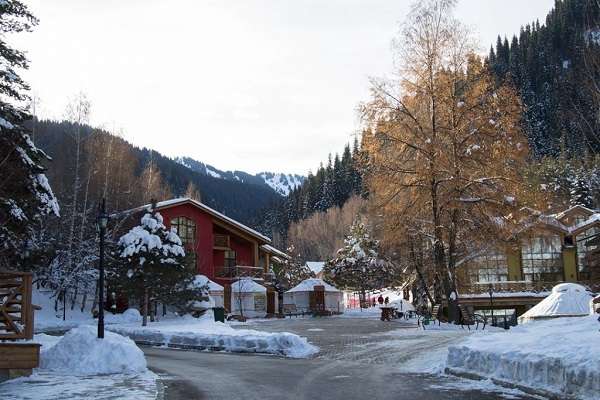 Lesnaya Skazka (Oi-Qaragai) mountain resort hotel
Additional services
"The Oi- qaragai forest Fairy tale" is an immersion in the atmosphere of an extreme, entertainments, a complex of services in accommodation, a dining, active recreation, carrying out various actions.
Make your vacations fun and active with:


Rope park from 1600 KZT (4.11 USD)

Trolley park from 3000KZT (7.70 USD)

Horse center from 1200 KZT (3.08 USD)

Bike park from 2000KZT (5.13 USD)

Climbing wall from 1200 KZT (3.8 USD)

Hiking tours from 4000KZT (10.27 USD)

Ski resort

Crazyball
Also we are glad to offer you our restaurants and cafes with different types of cuisine, comfortable halls and pleasant atmosphere.
Conveniences in the rooms
The resort has a unique system of accommodation.
There are


35 comfortable tree houses from Standard to Premium, located at different heights.

A mountain hotel " Ak Tas" in European style with 18 bright rooms, balconies and a fireplace room.

A tourist cabin for 4 persons is in the upper part of resort, on the edge of the forest. Cabin made of natural wood.

The ethnic hotel in yurts " Orman Auyly- is a unique, comfortable place where you can experience the atmosphere of nomads.

Villas have comfortable rooms with modern appliances, furniture and accessories.

VIP chalet "Four Force" with 5 double rooms with a good capacity of up to 10 and a maximum of up to 15 people. There are also a fireplace room, sauna, large terraces, kitchen and private balconies.
All except tourist cabin have a room service and Wi-Fi.
Meeting at the airport, the railroad station, bus station
Specify at reservation
Checkout time
14.00
Payment method
Cash
Location